IT IS AN ESTABLISHMENT ROOTED at the corner of crossroads, called The Halfway House and built of hard stone set down upon the earth a century ago.
It is a place where lost souls frequent drowning sorrows with half-empty glasses and on a tabletop the news in a headline and destined for tomorrow's chip papers.
Two gather, huddled around and bent over like hags staring into the abyss.
Remember the wailing banshee that sings out in minor key laments. A sad refrain atop the gates where solemn processions pass, that parade of lost souls and truth is my friend; I should have endured it to the end.
I've still one more round, even though last orders called again, and back there, the night holds onto such strange things.
I decided, no more tomorrows, time when I've drunk a glass full of sorrows, sung a little rhyme and lay down to die. But, in the blinking of an eye back on a road straight to hell.
I guess I'm trying to help you in some small way, you've forgotten what you really know. I've been here before friend and I'm telling you fella, you're somewhat familiar, a little deja vu you know, see, same old soul just wearing a different overcoat.
Stay a little while, take one more for the road and trust me, see it out, live for a new tomorrow or it'll be my round again and in the company of another…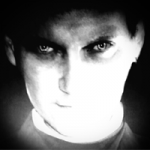 story by John Riley

back to previous episode forward to next episode