You've come to the right place if you are searching for suitable tales for halloween or for any other times of the year, especially to read during the hours of darkness.

Are you drawn to short horror stories maybe some scary stories? Well, you've found the right place, we've plenty of creepy, scary, haunted short fiction for you to enjoy free throughout The Ghostly World website.

If you like very short fiction stories, here's one for you. Do let us know what you think of it after you've read. We're around after midnight, we'll look in, see if anyone's made a comment and lurking around The Ghostly World. For now, we'll let you read while you've got the time.
Can you see it?
Well, I must admit I couldn't see any thing. Clearly, I wasn't looking close enough.
"Look," she came back with all impatient and demanding.
"There he is, amongst the trees! There's a figure in the shadows." Hannah stabbing a bony finger at the painting.
I felt told off.
I just didn't get it. She snatched the oil painting from me continues to gurn and pulls more expressions focusing on the same part of the picture, where she insisted a figure had mysteriously appeared. She turned the painting all ends up and insisted it was there.
Hannah can be a delightful soul. A frail buckled back woman, wispy grey hair that looks frazzled. She hobbles along with a sword walking stick. I'm sure illegal and apt to use it as some elongated appendage to point things out.
The painting we're examining, not all that good, saturated with colour, but you recognise Hannah's cottage. A night scene painted during the crescent moon seen in the sky.
A few days later Hannah rang me and duly I went to her cottage expecting the same request to check over the picture. That was the case, but this time Hannah had the spyglass quickly in my hand to examine the painted yew tree at the entrance to the gate.
"There can you see him, he's moved."
I could not see him. I was beginning to wonder over Hannah's obsession, was she feeling okay? On cue, the walking stick came forth wielded from below tapping with such dexterity at a point on the image.
There was something, but not what Hannah had mentioned.
It was the image of the moon, almost full. I thought it was a crescent last time I checked. I peered closer at the surface of the painting perhaps flakes of it had fallen off to reveal more of the moon.
Maybe it was Hannah messing with it. Perhaps I need to tread more carefully, where Hannah's concerned.
I deliberately kept avoiding the calls for a while, thought maybe better I try to put a little space between us, sort of let the thing fade out naturally and give it a little time before calling back on her.
It worked, as in the calls stopped and I did feel relieved not to be making the journey out of my way to meet up with her.
Well, it must have been a month or so after my last call to Hannah. I was walking down the high street and then I saw the painting, in the window of a second hand shop called Bygone Times. It was definitely the same painting. What drew my attention was the moon, a full moon.
For a moment I collected my thoughts, maybe painted in before offered for sale. However, there was something else on the path walking away from the cottage, a figure. A tall figure with top hat, cape and walking cane that on closer inspection revealed a glint of steel, a swordstick!
Would you believe it and the synchronicity of it all. Just after seeing the picture in the shop for sale I happen to find out from a friend about Hannah.
It seems gone to her grave.
What sent her there?
Apparently an accident with the swordstick!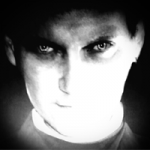 story by John Riley
artwork by albertonildi

back to previous episode  forward to next episode